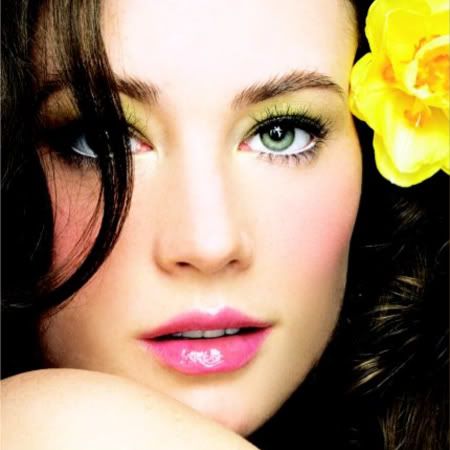 Here's another Yahoo Answers post. The asker wanted to know how to get this look (mainly the eyes). But I did a breakdown of the entire look just for detail. I know I've been post-happy today but I've been looking through a bunch of my old best answers and they really are worthwhile to share.

Here's what you need:
Foundation, brow powder/pencil, blush, light yellow-green, bright green, and dark green eyeshadow, sparkly gold eyeshadow, black liquid/pencil eyeliner, white eyeliner, mascara/false lashes, concealer, "jelly" type lipgloss. AND, patience + practice (:
PREPPING:
• Apply a light creme/mousse type foundation (match your skintone, this one is very pale) over your entire face, around your eyes and on eyelids too...this will create a base for the eye makeup. Blend well so it won't look caked on or unnatural.
• If your brows are similar to the picture, leave them. If they are thinner, fill them in with very little light brown eye pencil or eyeshadow.
• Lightly apply rosy pink blush to the apples of your cheeks...blend well so it doesn't stand out TOO much.

HOW TO DO THE EYES:
STEP 1;
You can use any kind of eyeshadow for this. Drugstore brands come in similar colors so you dont need to spend money on MAC or anything(:
STEP 2;
Apply light yellow-green eyeshadow over your entire eyelid and below the brow.
STEP 3;
Highlight below the brow with a sparkly gold eyeshadow... just a little.
STEP 4;
Sweep a bright green eyeshadow on the eyelid, till just above the crease.
STEP 5;
Sweep a darker green eyeshadow on the eyelid, but below the crease or enough so that the bright green eyeshadow will still be visible.
STEP 6;
Use either liquid or pencil eyeliner to line your top lashline ONLY. Extend it a little past the outer corner of the lashes I would reccomend pencil...just because it is easier, but liquid will give you more precision...just dont mess up lol.
STEP 7;
Line your bottom lid with white eyeliner. Start lining where your lashes start, not before that.
STEP 8;
Add a light dusting of gold eyeshadow on the inner corners of your eye and below the bottom lashline & before where you started lining with the white eyeshadow.
STEP 9;
Curl your lashes and/or apply false eyelashes.
STEP 10;
Apply black mascara to the top and bottom lashes.
FINISHING:
• Touch up your foundation.
• Apply a light concealer below the eye area.
• Apply Bright pink lip gloss w/ shine...it looks like a "jelly" type lip gloss.