Hello loves! Today I wanted to share what I'm currently sporting on my nails:

Tiffany box inspired!


I used ELF Mint Cream & NYC French Tip White to do the bows.


I learned how to make the bows from this tutorial:

But my white polish was kind of on the "liquidy" side, so it didn't really stay tacky long enough to drag it cleanly. Still think it turned out alright for first attempt though : )
This design is super easy and super cute. Definitely check out Narita's vid and try it out!
Also, after reading
Agnes' post about possible Chanel Jade dupes
, I was thinking that ELF's Mint Cream looked pretty close.
So... is it?
Here's Chanel Jade:

(image from google search)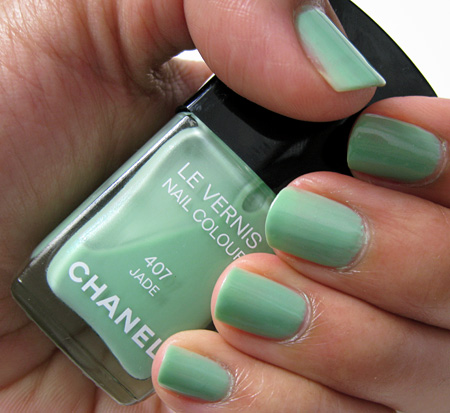 While I don't own Chanel Jade, I can look at pictures :P So comparing it to my NOTD with ELF's Mint Cream, I'd have to say
this is pretty much the closest darn dupe you are gonna get for a dollar
. Chanel Jade is greener and more true "jade," while ELF Mint Cream is bluer and of course, closer to a Tiffany Blue shade and doesn't have shimmers. However, they both seem to be around the same level of "pastelness."
So while you probably won't feel as luxurious having ELF Mint Cream on your nails, it's still a fun shade to wear that is decently similar to Chanel Jade, especially since it's only $1!